ISIS Press Release 23/07/09
Brian Goodwin
A Pioneer across the Disciplines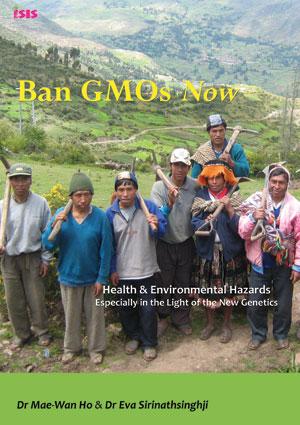 Announcing a new Report from ISIS. The most complete up-to-date summary of the dangers of GM agriculture in 52 pages. Buy Now

It is with great sadness that we announce the death of Prof. Brian Goodwin in his last post as Resident Scholar at Schumacher College at the age of 78.

Brian was a scientist well ahead of his time. He pioneered theoretical biology, structuralism, complexity theory, holistic and Goethean science, inspiring generations of students and colleagues across the disciplines to ask the big questions and always to think beyond received wisdom.

Brian had been member of ISIS since the beginning and also a member of the Independent Science Panel of 2003. Brian's funeral will be held at 2 pm on August 1 at Staverton Church in Dorset. His memorial is set for 20 September. Please check the website link for further information:

http://www.schumachercollege.org.uk/news/professor-brian-goodwin

There are 1 comments on this article so far. Add your comment
joe cummins Comment left 27th July 2009 23:11:54
Brian was an inspiring friend. We will all miss him and try to cary on his good work to our best ability,






I-SIS is a not-for-profit organisation, depending on donations, membership fees, subscriptions, and merchandise sales to continue its work. Find out more about membership here


Recent Publications



Ban GMOs Now - There is definitely no scientific consensus on the safety of GMOs. On the contrary, there is overwhelming evidence on risks to health and the environment from a growing consensus of independent scientists and farmers, read it here!
Order Now | more


Living Rainbow H2O - Water is the means, medium and message of life, the rainbow within that mirrors the one in the sky
Order Now | more

Celebrating ISIS - Quantum Jazz Biology - 100 page book featuring essays and selected artwork from the 2011 ISIS event of the same name
Order Now | Preview

Green Energies - 100% Renewable by 2050 "A must-read for saving the climate"
Order Now | More info

The Rainbow and the Worm, The Physics of Organisms "Probably the Most Important Book for the Coming Scientific Revolution" Now in its Third Edition
Buy Now | More info


The only radical science magazine on earth
Science in Society 60 OUT NOW! Order your copy from our online store.



GM Science Exposed. A comprehensive dossier containing more than 160 fully referenced articles from the Science in Society archives. NOW UPDATED
Buy Now | More info

GMO Free: Exposing the Hazards of Biotechnology to Ensure the Integrity of our Food Supply
Buy Now | More info
Food Futures Now
*Organic *Sustainable *Fossil Fuel Free
Buy Now | More info