New Economy Now
Away from the headlines, a new economy is taking shape through financial innovations on the Main Street and grassroots local action Dr. Mae-Wan Ho
The colonized 99 %
The unregulated money and banking system put in place since the 1970s and 1980s is now generally regarded as the fundamental cause of the 2008 global financial crash (see [1] "Shut Down Wall Street!", SiS 53). The massive government bailouts handed to the financial institutions in its wake ensured their speedy recovery to profitability and big bonuses, but have made things worse for "the 99 %". Far from stimulating the real economy and creating jobs, unemployment soared, especially among the young, home foreclosures continued unabated, and the world is plunged into a sovereign debt crisis from which it may never recover.
Wall Street's relationship with the US is likened to that of a colonial occupier devoted to extracting and expropriating wealth from the people [2]. The US is by no means alone. Global corporations, financial and otherwise, do not have a mission to create jobs. On the contrary, they are there to maximize profit by all means available, including [2] "eliminating jobs and work benefits, depressing wages, evading taxes, denying health insurance claims, and pillaging the retirement accounts of the elderly." Doesn't that sound familiar?  
Indeed, the middle class has been all but eliminated in the 'economic growth' fuelled by the financial deregulation of the 1970s and 1980s: the richest becoming even richer while the ranks of the poorest swelled to more than half the population. Between 1983 and 2009, over 40 % of the wealth-gain went to the wealthiest 1%, and 41.5 % went to the next wealthiest 4 %  [3]; the bottom 60 % of US households gained nothing at all; they went into debt instead (see Figure 1).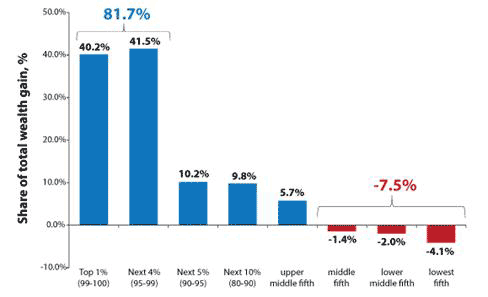 Figure 1   Share of wealth gain 1983-2009
Wages and workers' benefits are eliminated and minimized by automation and outsourcing to countries with the cheapest labour cost. But that does not mean an increase in global employment. Between 2000 and 2009, according to the US Department of Commerce, transnational corporations - which employ about 20 % of all US workers - slashed US employment by 2.9 million and increased overseas workforce by 2.4 million, resulting in a net loss of 0.5 million jobs.
The major task in building a new economy is to replace Wall Street by Main Street money and banking system accountable to local communities and responsive to their needs; and along with that, the creation of good jobs at living wages that generate real wealth for people.
Fortunately, we don't have to wait for governments to make this happen.
Communities bank on community wealth
The first in a six part action plan proposed by the New Economy Working Group (NeWGroup) to liberate America from Wall Street [4] is to reverse banking consolidation, break up megabanks and build a national system of community banks, in particular cooperatives or ownership by non-profit organisations devoted to building community wealth.
The New Rules Project of the Institute for Local Self-Reliance [5] reports that the US still has some 8 000 credit unions and more than 7 600 community banks (with assets ≤ $1 billion(. Partly as a result of the Move Your Money campaign [6], which en­courages people to transfer their bank accounts to local financial institutions, the credit unions are booming [7]. Between the start of 2009 to June 2010, credit unions added over 1.5 million new members, their deposits grew by 10 percent in 2009, and held 10 percent of US deposits by June 2010.
Community Development Banks [8] - private federally-insured for-profit banks and thrift institutions with a mission to serve low and moderate income communities -finance affordable housing, small busi­nesses, community facilities, consumers, and mixed-use commercial real estate. They also support the devel­opment and application of green technologies.
According to the Forum for Sustainable and Responsible Investment (formerly Social Investment Forum) [9], the combined assets of community development banks, community development credit unions, community development loan funds, and com­munity development venture capital funds rose more than 60 % from $25 billion in 2007 to $ 41.7 billion at the start of 2010.
There are other financial innovations from community banks cited in the NEWGroup report [4].
The Bremer Bank, operating in Minnesota, North Dakota, and Wisconsin, manages $8 billion in assets and specializes in serving local farmers and businesses. It is owned 90 % by a non-profit foundation that returns all profits to the community; and the bank's employees own the remaining 10 %.
One PacificCoast Bank was founded as OneCalifornia Bank to serve low-income communities. It is owned by the non-profit One PacificCoast Foundation set up by financier Tom Steyer and his wife Kat Taylor with an initial philanthropic investment of $22.5 million. The foundation receives all financial benefits, and makes charitable and educational grants to support the bank's social goals. In 2010, OneCalifornia Bank acquired ShoreBank Pacific, which specialized in providing loans for local businesses engaged in the restoration and sustainable management of environmental resources. The com­bined banks now operate as One PacificCoast Bank.
Southern Bancorp, one of America's largest and most profitable development banks with over $ 1 billion in assets, is a for-profit bank with restrictions on ownership participation. Most of its shareholders are foundations and corporations that invested for social rather than financial returns; most have no rights to receive dividends, share in profits, sell their shares, or convert the bank to a conventional model. Their mission is to achieve three transformational goals for the communities they serve in Arkansas and Mississippi over the course of 20 years: reduce poverty by 50 %, reduce unemployment by 50 %, and improve high school graduation rates by 50 %. Southern Bancorp offers a full range of banking services to the poor: checking accounts, credit cards, cheque cashing, small consumer loans, and several non-traditional financial services such as matched savings accounts and free tax preparation. The profits go either to increase the capital base to support expansion of the lending programmes or recirculate back to the poorest in the community as banking services or philanthropy.
The Enterprise Cleveland Group (ECG) in Ohio is a tax-exempt non-profit community development financial institution (CDFI) that helps small businesses grow, through loans and technical assistance. Its Evergreen Cooperative Development Fund, established by the Cleveland Foundation (US' first community development foundation) in partnership with the Democracy Collaborative at the University of Maryland and the Ohio Employee Ownership Center, expects to become an independent CDFI in 2012. Together, these groups have launched a growing network of employee-owned businesses to provide employment for Cleveland's low income communities. The employee-owned companies, in turn, are committed to dedicate at least 10 % of their profits to seeding new investments as co-investors in the Fund. The Fund also raises investment funds from institutions, foundations, government programs and individuals in the form of grants and social responsible investments.
A New York Times article published in December 2011 [10] reports some 130 million Americans participating in the ownership of co-op business and credit unions, 6 million more than in private-sector unions; and over 1 million Americans have become worker-owners of more than 11 000 employee-owned companies.
State banks for safe deposits
The second item in the NEWGroup liberate America agenda [4] is to establish a system of state-owned banks to serve as depositories for state financial assets and to partner with community development financial institutions on loans to local homes, industry and commerce.
The Bank of North Dakota (BND) is a shining example of such a state bank. It was established in 1919 to promote agriculture, commerce and industry in North Dakota. It is 100 % owned by the State, and conducts its business solely in the public interest in partnership with the state's local private banks. Its deposits, primarily interest-bearing accounts of the state and its political subdivisions – are guaranteed by the State of North Dakota. The  BND is a major reason why North Dakota has more local banks per capita and a lower default rate  on loans than any other US state, and also why its community banks were relatively untouched by the 2008 financial crisis. This has inspired other states to set up their own state banks.
By March 2011, state partnership bank legislation has been introduced in  8 states: Maryland, Oregon, Hawaii, Washington, Illinois, Louisiana, Massachusetts, and Virginia, and additional state bank legislative initiatives were in the pipelines in Maine and California.     
By December 2011, 14 states are considering legislation to create public banks similar to BND [10].
Grass roots action
Occupy Wall Street, and Occupy, is a spontaneous worldwide protest movement that has alerted and galvanized the ordinary people against the greed and corruption inherent to the current monetary regime [1]. But other action has also been happening behind the headlines.
The Move Your Money campaign [6] encourages individuals and institutions to divest from big Wall Street banks 'too big to fail', to take power into their own hands by stopping contributions to the corrupt financial system and create a stable, localized banking system instead.
Resilience Circle is a movement for a small group of 10 – 20 people coming together to increase personal security by learning, mutual aid and social action [11].
U.S. Uncut runs a non-violent direct action campaign to focus public attention on corporate tax dodgers and their part in the public budget deficits.
The Public Banking Institute [12] is dedicated to the understanding and facilitating the implementation of public banking at all levels, local, regional, state, and national. 
To conclude
We have all the elements of a new socially accountable economy that provides good jobs at living wages, and generates real wealth for people, at least in the United States. But that is not enough, we need a truly green circular economy that works with and within nature to generate and regenerate wealth for people and planet (see [13] Living, Green & Circular, SiS 53).
Article first published 04/01/12
---
References
Ho MW. "Shut Down Wall Street!" Science in Society 53 (to appear).
Cavanagh J and Korten D. JOBS, A Main Street Fix for Wall Street's Failure. A Report from the New Economy Working Grooup, 29 November 2011, http://neweconomyworkinggroup.org/new-economy-story/main-street-fix-wall-streets-failure
Mishel L. Huge disparity in share of total wealth gain since 1983, Economic Policy Institute, accessed 15 September 2011, http://www.epi.org/research/
Korten D. How to Liberate America from Wall Street Rule, New Economy working Group, July 2011, http://www.yesmagazine.org/pdf/liberateamericadownload.pdf
New Rules Project, Institute for Local Self-Reliance, accessed 15 December 2011, http://www.newrules.org/
Move Your Money, accessed 15 December 2011, http://moveyourmoneyproject.org/
"Credit Unions hang tough, see surge in deposits", Stacy Mitchell, 22 June 2010, http://www.newrules.org/banking/news/credit-unions-hang-tough-see-surge-deposits
Community Development Bankers Association, accessed 15 December 2011, http://www.cdbanks.org/
"Experts: As traditional banks fail to meet more and more local needs, community investing poised to break through to mainstream", Press Release, The Forum for Sustainable and Responsible Investment, 13 April 2011, http://ussif.org/news/releases/pressrelease.cfm?id=173
"Worker-Owners of America, Unite!" Gar Alperovitz, 14 December 2011, http://www.nytimes.com/2011/12/15/opinion/worker-owners-of-america-unite.html
What is a Resilience Circle? Resilience Circles, accessed 15 December 2011, http://localcircles.org/what-is-a-resilience-circle/
Public Banking..it already works in the United States and is catching on! Public Banking Institute, accessed 15 December 2011, http://publicbankinginstitute.org/
Ho MW. Living, Green & Circular. Science in Society 53 (to appear).
Got something to say about this page? Comment