GM-Spin Meltdown in China
Bt cotton in China is often cited as an example of a successful GM crop. In fact, its widespread use has merely replaced the cotton borer with a serious pest that not only attacks cotton but also many other crops. Prof. Peter Saunders
The 'success' of Bt cotton short lived
Genetically modified (GM) crops not only present serious dangers to health and the environment (see [1] GM Food Angel or Devil, ISIS report for a succinct recent summary and references), they have not delivered on their promises. For all the investment and effort that has gone into developing and pushing them, it is really only the biotech industry that has profited, especially now that GM crops are leading to serious problems with herbicide resistant weeds and secondary insect pests in the USA, the world's leading GM producer [2] (GM Crops Facing Meltdown in the USA, SiS 46).
A detailed study on cotton growers in the US state of Georgia published in 2008 found that no transgenic technology system provided greater returns than a non-transgenic system in any year or location [3, 4] (Transgenic Cotton Offers No Advantage, SiS 38). The editor of Nature Biotechnology summed it up [5]: "This journal champions biotech research, so we are not downbeat on its prospects to, one day, generate products that will heal, fuel and feed the world. That is, nevertheless, an outrageous act of faith bordering on the religious."
To support their claim that GM is the way forward, its supporters often cite the example of what they claim is the success of Bt cotton in India and China. Bt cotton is genetically modified to produce a toxin originating from the soil bacterium Bacillus thuringiensis that kills the cotton bollworm Helicoverpa armigera. We are told that yields have greatly increased since Bt cotton was introduced and that farmers' profits have correspondingly gone up. Because farmers no longer have to use pesticides against the bollworm, both their health and the environment have improved [6].
If Bt cotton really is an example of what GM crops have to offer, then it is a warning rather than a promise, because what actually happened is rather different. Bt cotton has been disastrous in India. It has accelerated farm suicides by increasing the farmers' burden of debt. Crop failures and bad harvests, exorbitant cost of GM seeds, secondary and new pests, Bt-resistant pests, new diseases, and worst of all, soils so depleted of nutrients that they considerably reduce the productivity of subsequent crops planted after Bt cotton is harvested [7,8] (Farmer Suicides and Bt Cotton Nightmare Unfolding in India, Mealy Bug Plagues Bt Cotton in India and Pakistan , SiS 45).
Bt cotton was introduced into China in 1999 and its use has spread rapidly; at present it has achieved 95 per cent adoption in northern China [9]. At first it seemed to do what it says on the packet. By the third year of planting Bt cotton, farmers had reduced pesticide use by more than 70 per cent and were earning 35 per cent more than farmers growing non-GM cotton [6].
However, the bollworm is not the only serious pest that attacks cotton. There are others, such as the mirid (Apolygus lucorum) that are susceptible to the same insecticides used to control the bollworm but not to the toxin in Bt cotton. When the farmers stopped spraying their cotton fields, the number of mirids increased exponentially, posing a serious threat not only to cotton, but also to other crops such as apples, grapes, peaches, pears and Chinese dates that mirids had never been a significant pest until now. Data from 38 sites for cotton and 77 sites for other crops in northern China during the period 1997-2008 are plotted in Figure 1;  the level of infestation was assigned a score between 1 (no infestation) and 5 (extreme infestation) [9]. Bt cotton fields have become refuges in which the mirid populations could build up to ravage other crops nearby.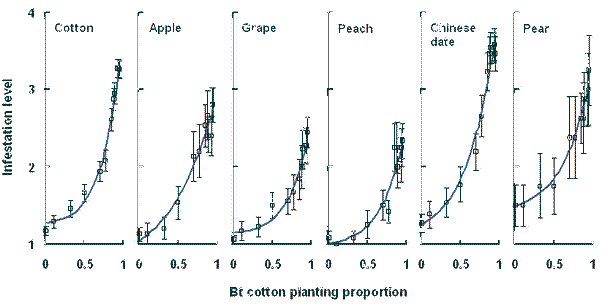 Figure 1 Association between mirid infestation on cotton and other crops and the proportion of Bt cotton grown in the region
Spraying as much after three years of Bt cotton
The farmers had to start spraying again, and by 2004, they were using just as much pesticide as conventional farmers. Because they were paying three times as much for their seeds, they now had net incomes on average 8 per cent less than those of conventional farmers. [10, 11] You could hardly ask for a better example of how the beneficiaries of GM are neither the farmers nor the consumers, but the biotech industry.
Spinning a Tale
This story also gives us an insight into the use of spin in science by the pro-GM lobby, and in the most prestigious mainstream scientific journals on both sides of the Atlantic. In 2008, the American Association for the Advancement of Science (AAAS) held a news briefing in Beijing to publicise a paper that had recently been published in their journal Science. According to the press release, the briefing was the first event of its kind ever to be held in China [12]. Somebody obviously wanted this work to make a big splash.
The paper [13], written by four Chinese scientists, was entitled "Suppression of cotton bollworm in multiple in China in areas with Bt toxin–containing cotton". The authors claimed that their data "suggest that Bt cotton not only controls H. armigera on transgenic cotton designed to resist this pest but also may reduce its presence on other host crops and may decrease the need for insecticide sprays in general."
But by this time the mirid problem was widespread and serious. Moreover, the authors were certainly aware of it, for at the very end of their paper they wrote:
"Nevertheless, as a result of decreased spraying of broad-spectrum pesticides for controlling cotton bollworm in Bt cotton fields, mirids have recently become key pests of cotton in China. Therefore, despite its value, Bt cotton should be considered only one component in the overall management of insect pests in the diversified cropping systems common throughout China."
Strictly speaking, this does not contradict what the title claims. Bt cotton does indeed appear to suppress the cotton borer, as you would expect it to. What it does not do, however, is help farmers make a better living. It hardly seems worthwhile holding a press conference, the first of its kind in the whole of China, to announce such a modest result. So in order not to spoil a good story, the organisers lost the bit about the mirids.
In the press release they wrote instead: "Wu and the team of researchers, however, acknowledge that a major challenge to the success of Bt cotton is the potential for insects to evolve resistance to the insecticide. They insist that despite its considerable value, Bt cotton should still be considered only one component in the overall management of pests."
The scientists themselves were clearly concerned about the mirid problem and carried on their research. They reported their results in a second paper in Science, entitled "Mirid bug outbreaks in multiple crops correlated with wide-scale adoption of Bt cotton in China" [9].  This paper describes precisely what its title promises. No one appears to have organised a press conference to publicise this result.   
The scientists in China should take heed of the latest finding by ecologists that the solution to pest control is not a return to more spraying while continuing to grow Bt crops, but to adopt organic non-GM agriculture (see [14] Organic Agriculture for Biodiversity and Pest Control, SiS 47).
Article first published 07/07/10
---
References
Ho MW. GM food- angel or devil? Foreword,  4 May 2010, ISIS press release, http://www.i-sis.org.uk/GM_Food_Angel_or_Devil.php
Ho MW. GM crops facing meltdown in the USA. Science in Society 46, 24-27, 2010.
Jost P, Shurley D, Culpepper S, Roberts P, Nichols R, Reeves J and Anthony S. Economic comparison of transgenic and nontransgenic cotton production systems in Georgia. Agronomy Journal 2008, 100, 42-51.
Ho MW and Saunders PT. Transgenic cotton offers no advantage. Science in Society 38, 30, 2008.
Marshall A. Join the dots. Nature Biotechnology 2008, 26, 837.
Huang JK, Hu RF and Fan CH. Bt cotton benefits, costs and impacts in China. AgBioForum 2002, 54, 153-66. (Like most scientific papers that are positive about Bt cotton in China, this was published before the mirid problem became apparent.)
Ho MW. Farmer suicides & Bt cotton nightmare unfolding in India. Science in Society 45, 32-39, 2009.
Ho MW. Mealy bug plagues Bt cotton in India and Pakistan. Science in Society 45, 40-43, 2009.
Lu YH, Wu KM, Jiang YY, Xia B, Li P, Feng HQ, Wyckhuys KAG  and Guo YY. Mirid bug outbreaks in multiple crops correlated with wide-scale adoption of Bt cotton in China. Science 2010, 328, 1151-1154.
Wang S, Just DR and Pinstrup-Andersen P. Tarnishing silver bullets: Bt technology adoption, bounded rationality and the outbreak of secondary pest infestations in China. Selected paper prepared for presentation at the American Agricultural Economics Association Annual Meeting Long Beach, CA, July 22-26, 2006. Available at http://www.grain.org/research_files/SWang_tarnished.pdf Accessed 27 June 2010.
Wang S, Just DR and Pinstrup-Andersen P. Bt-cotton and secondary pests. International Journal of Biotechnology 2008, 10, 113-121.
American Association for the Advancement of Science. Effects of Genetically Modified Cotton on Bollworms in China Revealed in Science. Press release, 18 Sept 2008. Available at http://www.aaas.org/news/releases/2008/0918china_cotton.shtml   Accessed 19 Jun 2010. We have no way of knowing who took the initiative in the unusual (for China) step of organising a press conference to publicise a paper in a scientific journal, but Monsanto is very much involved in the development of Bt cotton in China.
Wu KM, Lu YH, Feng HQ, Jiang YY and Zhao JZ). Suppression of cotton bollworm in multiple crops in China in areas with Bt toxin–containing cotton. Science 2008, 321, 1676-78.
Ho MW. Organic agriculture for biodiversity and pest control. Science in Society 47 (to appear).
Got something to say about this page? Comment