Hawaii's Big Island Leads the Way in Banning GMOs
Big Island ban GMO testing and cultivation while other counties step up their campaigns to regulate GM testing and farming, but agritech giants are already gearing up for a fight Dr Eva Sirinathsinghji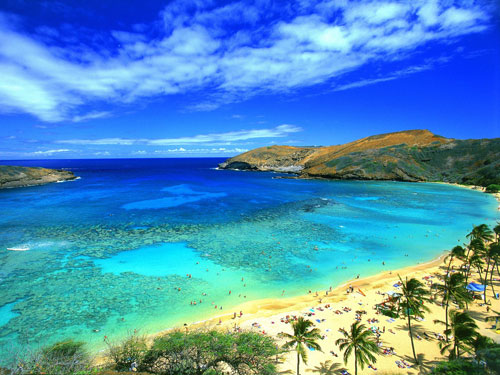 The mayor of Hawaii County Billy Kenoi has signed Bill 113 into law, banning agritech companies and farmers from testing or growing genetically modified (GM) crops; except for GM papayas, which are already widely grown.
Hawaii is a huge testing ground for agritech corporations including Monsanto, Dow AgriSciences, Syngenta and Pioneer, though none has yet established itself in Big Island. This new bill will ensure it remains so into the future.
"Our community has a deep connection and respect for our land, and we all understand we must protect our island and preserve our precious natural resources," Kenoi wrote to council members [1]. "We are determined to do what is right for the land because this place is unlike any other in the world." The bill aims to encourage local farming and ranching industries as opposed to chemical agricultural methods promoted by the agritech giants.
The fight is now moving to Maui County, where Councilwoman Elle Cochran plans to submit a bill forcing agritech companies to disclose the chemical pesticides they use, restrict where they can be sprayed, and farmers would be required to report any GM crops grown on their farms.
The newly proposed bill by Maui County mirrors Bill 2491 of Kauai County that was passed November 2013, despite a veto from the local Mayor Bernard Carvalho which was eventually overridden.
However, these efforts are being met with aggressive moves by industry, with three of the agritech giants filing a lawsuit against Kauai. DuPont, Syngenta and Agrigenetics Inc, a company affiliated with the Dow AgroSciences unit of Dow Chemical Co, filed the suit claiming that the action in Kauai is unconstitutional and seeks an injunction permanently barring enforcement of provisions of the law.
 These two newly passed historic bills of Kauai and Hawaii County reflect a growing frustration over the lax oversight of pesticide and GM crops which is fuelling increasingly organised campaigns by residents and local councillors. Maui County has twice attempted to pass GM labelling laws and most recently, Monsanto forged a Memorandum of understanding with the Mayor's Office of Maui which may well be a strategic move to pre-empt the bill, though Councilwoman Elle Cochran claims this memorandum "does not go far enough".
The potential bill of Maui County would require those applying over 5 pounds of restricted-use pesticides in the prior year to disclose what and where they used them. It also includes worker protection standards that require warning signs in pesticide use areas; public 'pre-application' notices to warn people of future use; scheduled pesticide application times; 'post-application' notices; buffer zones for pesticide use 500 ft from any residential zones including schools, homes and medical buildings and 200 ft buffer zones for car parks. Annual public reports will also document any GM crop grown on the island. This legislation will affect agritech companies the most, with Monsanto and Dow AgroSciences operating in this region.
Agritech corporations takeover Hawaii
When Hawaii's sugarcane industry collapsed in the 1990s, much of this newly vacant land in Kauai was later bought by the State of Hawaii or private land owners, which have since leased out the land to big six agritech corporations - Monsanto, Dow, Syngenta, BASF, Pioneer and Bayer. Testing grounds do not require buffer zones to protect the public and as is the case with the town of Waimea, testing fields border numerous communities and a school. Spraying is done without buffer zones and in the mornings, evenings or even in the middle of the night. Several pesticides are often sprayed together in a process called 'stacking', further increasing the toxic burden to the people as well as the land.
According to records from the Hawaiian Department of Agriculture, 22 restricted- use pesticides amounting to 3.5 tonnes have been imported into Kauai by agritech corporations including atrazine, Roundup, 2,4-D, Lorsban and Chlorpyrifos [2]. It is therefore of little surprise that cancer rates are indeed alarming, with 37 cases in a small community of 800 people.
The people of Hawaii are now taking up the fight against the devastating effects of this industry themselves and these historic bills are milestones in their achievement.
Article first published 10/02/14
---
References
1. Big Island Mayor Signs Biotech, GMO Ban Into Law. HuffingtonPost.com, http://www.huffingtonpost.com/2013/12/05/big-island-biotech-ban_n_4395521.html Accessed 24th December 2012
2. GMO & Pesticide Expriments in Hawaii: The Poisoning of Paradise. HuffingtonPost.com http://www.huffingtonpost.com/maggie-sergio/gmo-pesticide-experiments_b_3513496.html Accessed 24th December 2013
Got something to say about this page? Comment