Announcing I-SIS Special Report
Banishing Glyphosate
Updated 15/09/15
Glyphosate/Roundup, falsely claimed by Monsanto to be safe and harmless, has become the world's most widely and pervasively used herbicide, especially with glyphosate tolerant GM crops; it has brought rising tides of birth defects, cancers, fatal kidney disease, sterility, and dozens of other illnesses. Read the devastating evidence & ban glyphosate herbicides from you home and local community
Dr Eva Sirinathsinghji & Dr Mae-Wan Ho with Dr Medardo Ávila-Vázquez, Dr Don M. Huber, Dr Rosemary Mason, Ib Borup Pederson, Prof Peter Saunders, & Dr Nancy Swanson
Sign the Independent Scientists Manifesto on Glyphosate here: https://www.i-sis.org.uk/Independent_Scientists_Manifesto_on_Glyphosate.php
Download the report here (11mb), or purchase a high resolution copy on a USB memory stick here.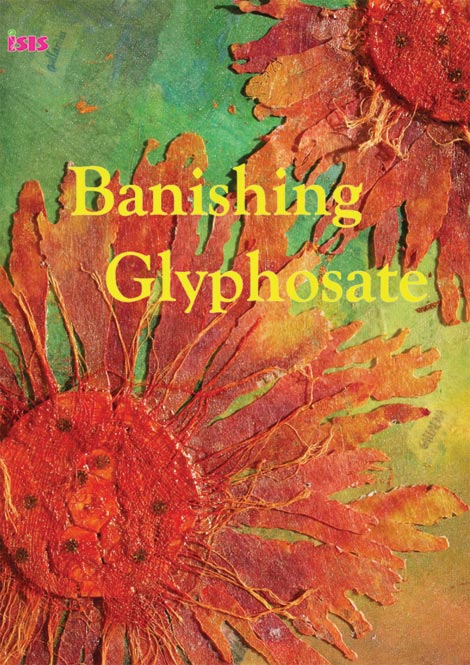 Glyphosate was released as an herbicide in 1974, and rapidly became the world's most popular herbicide especially since the introduction of genetically modified (GM) glyphosate-tolerant crops in the 1990s. Currently, 85 % of GM crops are herbicide-tolerant, with glyphosate-tolerant crops making up the vast majority of those planted. In the US for example which is the largest producer of GM crops, 93 % of soybean and 85 % of maize crops are glyphosate-tolerant (see Chapter 5).
A total of 137 glyphosate-tolerant varieties have been approved by May 2015 (see Supplement Table 1 Approved glyphosate tolerant crops). There are 19 varieties of cotton, 115 of soybean and 81 of maize; and in addition, 1 wheat, 2 sugar beet, 4 potato, 3 Polish canola, 8 Argentine canola, 1 creeping bentgrass and 3 alfalfa. 80 % of these crops are stacked, containing additional traits such as tolerance to glufosinate and 2,4-D herbicides and/or pesticidal properties. Of the glyphosate-tolerant crops generated, over 99 % of those grown belong to only four species - soybean, maize, cotton and canola.
According to the new yearly report from industry funded International Service for the Acquisition of Agri-Biotech Applications (ISAAA) [1], "18 million farmers in 28 countries planted more than 181 million hectares [of GM crops] in 2014, up from 175 million in 27 countries in 2013." This has spurred huge sales of glyphosate, giving it a market value of US$5.4 billion in 2012 with a total demand of 718 ooo tonnes [2]. Globally it is a key ingredient in more than 700 products [3] and is also used to control weed in gardens, along roadsides in commercial and residential areas, and on millions of hectares of farmland. Its presence is pervasive, in the air, in the soil, in our food and drinking water (see Chapter 1).
Underlying its success has been the repeated claim that the chemical is benign for human health, that its killing mechanism for plants works via an enzyme that does not exist in animals and is therefore safe for both human and animals. This claim goes counter to evidence that existed right from the start. Studies revealed both carcinogenicity and teratogenicity as far back as the 1980s, but were buried by industry with the support of regulatory bodies such as the US Environmental Protection Agency and the European Food Safety Authority (see Chapter 5 and [4] EU Regulators and Monsanto Exposed for Hiding Glyphosate Toxicity, SiS 51).
Meanwhile, overwhelming evidence of glyphosate toxicity across the globe has come to light. Everywhere, people are seeing steep rises in cancers, birth defects and other serious illnesses as glyphosate use increases. The World Health Organisation's recent re-assessment of glyphosate as a 'probable carcinogen' vindicates the evidence witnessed by communities, researchers, doctors and campaigners for many years.
Despite rising glyphosate use and GM crop cultivation, recent data show that global GM crop adoption rates are falling, covering only 3.5 % of arable land. The markets of high-adoption rate countries are becoming saturated, while few additional countries have been cultivating GM crops, indicating that nations and farmers are turning their backs on a failing technology [5]. With the rise of weeds evolving resistance to glyphosate, US Farmers reported a decline in the effectiveness of glyphosate on almost 44 % of acres planted with soybeans in 2012. More than 47 % of those acres are in the Corn Belt, which contains the majority of soybean acreage in the United States, followed by the Northern Plains (23 %), Delta (11 %), Lake States (10 %), and Appalachia (9 %).The failure of GM crops could also have a major impact on the future of glyphosate use [6].
With its increasing lack of efficacy on top of the rising awareness of its toxicity, people across the globe are taking action to rid glyphosate from their farms, their food and their land, air, and water. Lawsuits are being filed against Monsanto both in the US for false claims of safety, and in China for hiding the toxicology documents used for registering the chemical in the country. China is the world's largest producer of glyphosate and the largest importer of GM soybeans [7] (How Grain Self-Sufficiency, Massive Soybean Imports & Glyphosate Exports Led China to Devastate People & Planet, SiS 67); and feelings are running high against both. A recent petition has even gone so far as to call for the complete overhaul of the Ministry of Agriculture, whose Agricultural GMO Safety Evaluation is deemed inadequate for ensuring that "GMOs developed abroad or within China are safe". It goes on to claim that there has been collusion between them and Monsanto, resulting in the submission of "fake samples", the carrying out of "false tests" as well as the falsification of "safety conclusions" (see [8] China's Ministry of Agriculture Accused of Colluding with Monsanto, SiS 67). The ultimate rejection of glyphosate and GM crops by the Chinese people could be a turning point not just for China but the world. Meanwhile in Argentina, a federal judge has accepted an unprecedented class action lawsuit demanding a ban on GM foods and their associated pesticides [9]. Defendants of this case include not only all the major GM crop and chemical corporations, but the Argentine national government and the Federal Council for the environment. Claiming that GMOs contribute to the trend towards monoculture, direct seeding with consequent reduction of rural labour, concentration of profit in few producers and impacts of health of rural populations and environment, the lawsuit demands the passing of a biosafety law, labelling of GM crops, and the remediation of environmental damage such as the soil in addition to the bans.
The WHO declaration may well be the final nail in the coffin for Monsanto's flagship product, as it has intensified campaigns to ban the chemical. Several countries are already implementing bans of the chemical just 2 months after their assessment was published [10] (Fallout from WHO Classification of Glyphosate as Probable Carcinogen, SiS 67). Sri Lanka, suffering from an epidemic of fatal kidney disease, is the first to declare a complete and immediate ban. Earlier, Bermuda has banned glyphosate imports with immediate effect. And Colombia will no longer use it for its large aerial campaigns to destroy illegal coca plantations, a US-led war on drugs that is displacing Colombian citizens and compromising their land and water supplies. The Ecology Minister of France has ordered garden centres to stop selling it [11] and even private companies are taking the chemical off their shelves [12, 13, 14]. At a scientific UK parliament briefing on the 15 July, the Soil Association called for a ban of wheat pre-season spraying destined for bread after tests conclude that UK glyphosate use has risen by 400 % in the last 20 years [15]. Also attending was a member of the glyphosate researcher from WHO's IARC who reiterated the findings stating that glyphosate is "definitely genotoxic". Healthcare workers and campaigners are demanding action from governments that have so far supported the use of glyphosate, with Argentina seeing a recent statement backed by 30 000 healthcare professionals to ban its use completely, in line with the WHO assessment that vindicates all their work documenting rising rates of cancers and other illnesses linked to widespread GM soy cultivation. Their message seems to be getting through, with the Argentinian town of Lago Puelo now taking action to ban the marketing and use of glyphosate [16]. The Brazilian National Institute of Cancer José Alencar Gomes da Silva (INCA), a body of the Ministry of Health is similarly calling for a sustained reduction of pesticide use following the IARC declaration. Their report [17] states that glyphosate as well as diazonin and malathion, also declared probable carcinogens in the same assessment, are all widely used in Brazil as a result of GM crop cultivation. They urge for a sustained gradual reduction in pesticide use and a move to agroecological methods that support societal and environmental health, farmers' rights and social justice and economic efficiency.
In the US, state officials are following the advice of the IARC. California's Office of Environmental Health Hazard Assessment intends to list glyphosate as "carcinogenic", which may well be the first step in restricting its use in the US [18].
The EU is yet to make the final decision, expected later this year, on whether it will re-approve glyphosate. The approval process by the EU commission thus far relying on a summary of data provided by a consortium of chemical companies including Monsanto that form the Glyphosate Task Force, it is time that we make sure that the EU does not continue to corrupt the approval process and instead take into account the WHO assessment as well as the many other independent studies that were omitted from the assessment by the task force (see Chapter 11).
This report summarises the converging pattern of glyphosate toxicities from farm to clinic to the laboratory that leaves us in no doubt glyphosate must be banished (a combination of ban and vanish) from our homes, our cities and fields as a matter of urgency. A global ban is in order; the momentum to do so is already gathering pace. But we must start as individuals, in our family and home, our local communities. Above all, we must take this opportunity to stop poisoning people and planet with agrochemicals and shift comprehensively to sustainable, organic, non-GM agriculture that can truly guarantee food security under climate change (see [19] Food Futures Now *Organic *Sustainable *Fossil Fuel Free, ISIS Special Report) .
All chapters in this report (except Chapter 5 by Dr Mae-Wan Ho and Prof Peter Saunders, and Chapter 9 by Professor Emeritus of plant pathology Dr Don Huber) are selected from articles published by I-SIS online and in print between 2013 and 2015. Chapter 1 is updated and substantially enlarged from [20] A Roundup of Roundup Reveals Converging Pattern of Toxicity from Farm to Clinic (SiS 65) incorporating Chapter 1 of [21] Ban GMOS Now (ISIS special report). Chapter 2 is from [22] Marked Deterioration of Public Health Parallels Increase in GM Crops and Glyphosate Use, US Government Data Show (SiS 65). Chapter 3 is updated from [23] Devastating Impacts of Glyphosate Use with GMO Seeds in Argentina (SiS 66). Chapter 4 is from [24] Glyphosate/Roundup & Human Male Infertility (SiS 62). Chapter 6 is updated from [25] Sri Lanka Partially Bans Glyphosate for Deadly Kidney Disease Epidemic (SiS 62). Chapter 7 is from [26] Changing from GMO to Non-GMO Natural Soy, Experiences from Denmark (SiS 64). Chapter 8 is updated from [27] USDA scientist reveals All (SiS53). Chapter 10 is from [28] How Roundup Poisoned my Nature Reserve (SiS 64). Chapter 11 is from [29] Scandal of Glyphosate Re-assessment in Europe(SiS 63). Chapter 12 is from [30] Glyphosate 'Probably Carcinogenic to Humans' Latest WHO Assessment (SiS 66).
We thank all our co-authors who have contributed to separate chapters of this report, adding invaluable personal perspectives and especially first hand personal experiences of glyphosate toxicities.
Contents
Preface

Converging Pattern of Toxicity from Farm to Clinic to Laboratory Studies
Dr Eva Sirinathsinghji

Marked Deterioration of Public Health Parallels Increase in GM Crops & Glyphosate Use, US Government Data Show
Prof Peter Saunders

Devastating Impacts of Glyphosate and GMOs in Argentina
Dr Medardo Ávila-Vázquez

Glyphosate/Roundup & Human Male Infertility
Dr Mae-Wan Ho

Gyphosate is Carcinogenic
Dr Mae Wan Ho and Prof Peter Saunders

Sri Lanka Bans Glyphosate for Deadly Kidney Disease Epidemic
Dr Eva Sirinathsinghji

Changing from GMO to Non-GMO Natural Soy, Farming Experiences from Denmark
Ib Borup Pederson

Glyphosate and Metal Chelation – A Mechanism of Toxicity
Dr Eva Sirinathsinghji

Glyphosate & Crops Diseases Old and New
Dr Don Huber

How Roundup® Poisoned my Nature Reserve
Rosemary Mason MB ChB FRCA

Scandal of Glyphosate Re-assessment in Europe
Dr Nancy Swanson and Dr Mae Wan Ho

Glyphosate 'Probably Carcinogenic to Humans' Latest WHO Assessment
Dr Mae-Wan Ho and Dr Nancy Swanson
Article first published 20/08/15
---
Got something to say about this page? Comment
There are 1 comments on this article so far. Add your comment above.
Anne Cathrine Borkenhagen Comment left 22nd August 2015 15:03:51
Yes, we must start as individuals and talk to everyone about this!!!